PNLTY.MP.01
Mattea Perrota
My Letter to Picasso
Risograph print
Paper size: 11 x 17 in. / 27.94 x 43.18 cm
Edition of 100

$40 USD
This limited edition Risograph by Mattea Perrotta, printed by
Pagemasters
, is a companion edition to her 2022 exhibition,
My Letter to Picassso
.
Dearest Pablo,
Excuse my informalness, however I do regard this is what you deservingly should be referred as called in 2021. I am writing you from my apartment in Paris. I live off Rue Charonne in the 11 arrondissement. Perhaps you remember the days walking through these streets in the East end? Did le Marche D'Aligre inspire your painting of fish and produce in Night Fishing at Antibes? Did you follow the warmth of the sun down Rue Saint Antoine to be poured onto Opera Bastille? Did you walk along the Seine towards Tour Eiffel in search of your next muse? Tell me how did you manage to find such strong, intellectual, determined women to become fawns at your feet? I would like to acknowledge your influence on my work since I have moved to Paris. It's undeniable that you have a sort of je ne sais quoi effect on me. A city that you were not born into, but somehow took Montmartre by storm in the 30's. You have taken the hearts of many women, and I similarly have fallen under this spell. I have spent my last three years in this city mostly under lockdown. Coped up in my apartment like one of your Dove's in search of peace. I have studied you, painted like you, perhaps I'm trying to be you? Is it possible for a young woman like myself to obtain all this power in the art world? Is it possible for a woman like me to have a plethora of muses that fall ill, or heartbroken when I have taken everything I need? I have obsessed over your indiscretions, cruelties and emotional bloodletting. It infuriated me, but yet I cannot turn my glance away from your paintings. As I sit next to my window watching the smoke leave my mouth up towards the warm winter sun I realized that your subjects, your women, were the ones who won my heart. Correct me if I am wrong, but I believe you once said that women are "goddesses or doormats''? I'd like to make a comment on that remark, go to hell. Without "your women'' your paintings would be nothing but chairs in space. These women have given you your life work, your beloved Mas de Notre Dame de Vie in Mougins, your cubans and wine. These women have given you tout on nothing more than the shiniest silver platter. So here I am, in my flat studying "your muses" as the art world refers to them. How remarkable, beautiful, yet completely obsessed with you they were. I'd like to acknowledge them, give them a space away from you. Give them a narrative from my perspective, like yourself a foreigner living in France, a moment to acknowledge their individuality, their passion, their strengths and weakness, and heartbreak. I dedicate this show not to you, but to the following "muses" you have so disrespectfully disregarded; Fernande Oliver, Olga Khokhlova, Marie-Thérèse Walter, Dora Maar, Françoise Gilot and Jacqueline Roque. Mes filles, this show is for you, because without your bleeding hearts there would be no Pablo Picasso.
Cordialement,
Mattea Perrotta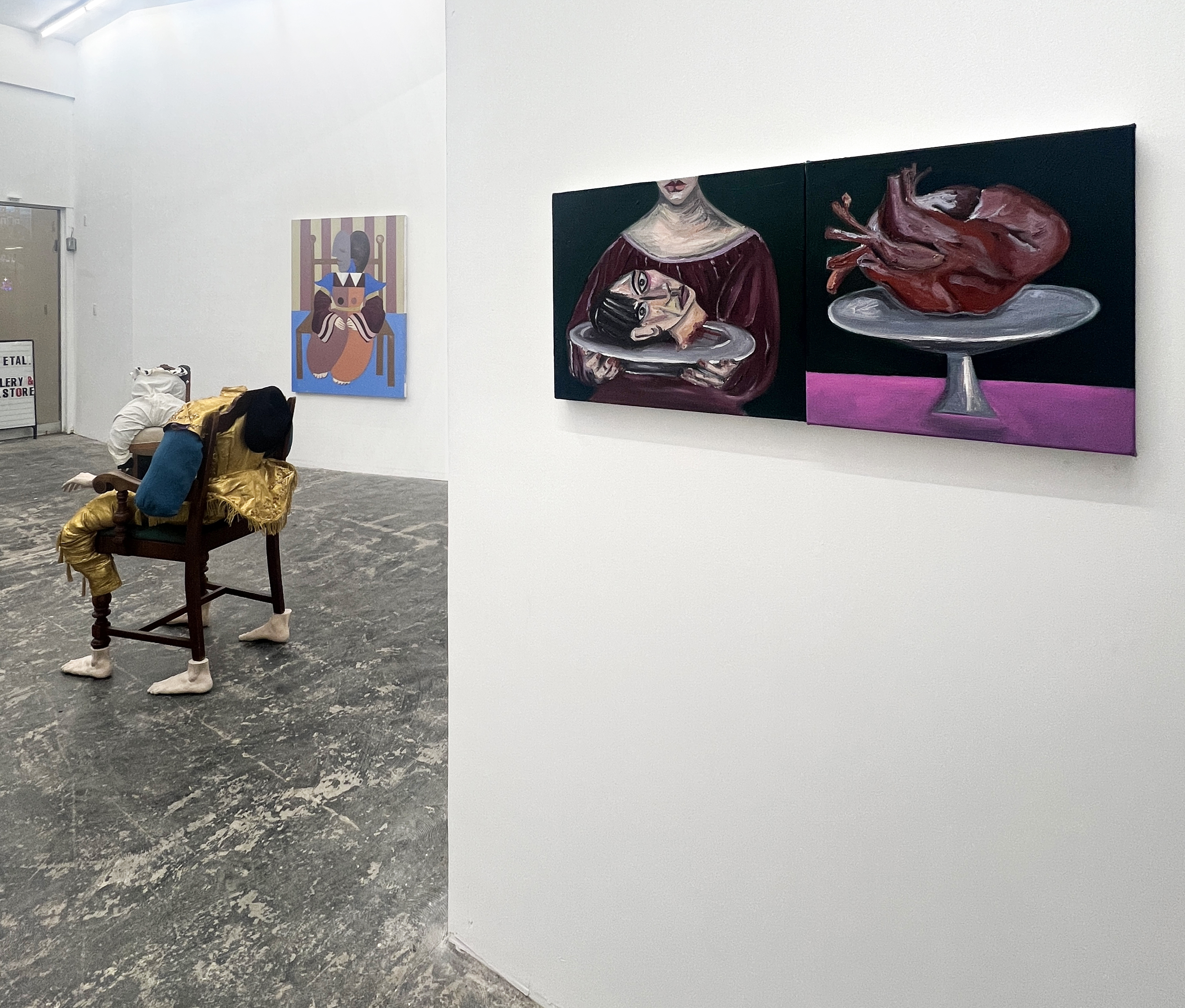 Photos courtesy of Mattea Perrotta and Et al. (San Francisco).
This edition was produced in collaboration with
Et al.
MORE BY MATTEA PERROTTA ︎︎︎